aldenofsunapee@myfairpoint.net




1-800-287-96**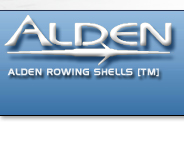 A sliding seat rowing shell is widely acknowledged to be one of the best methods to achieve a full-body workout. We can quickly teach you how to row on an Alden recreational shell. The speed is intoxicating and a well-toned body is the result...Guaranteed.


For more details visit the Alden Rowing website.
---
Quest 16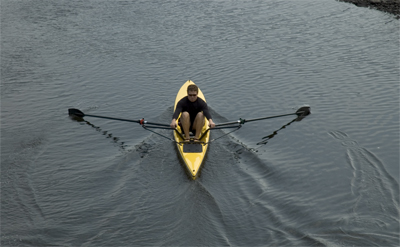 The Alden "Quest 16" Touring Shell weighs less than 45 lbs and is the Ultimate Recreational Touring Shell. We've built in a large storage hatch that comes with its own large waterproof drybag hatch liner that can be used for storing gear or valuables and can be easily removed for even more storage space. We've combined the Classic 16 Hull and redesigned the entire deck and cockpit to create an entire new boat that's truly all its own. The Quest has its own built in rigging system that is included in the price of the boat. The rigging is identical to that of our popular Star 22. That's right, a touring recreational shell that's built for both speed and stability. This is a revolutionary new boat that can be had at a price that is hundreds less than similar boats currently on the market. We are also providing the option of an additional self attaching/hardware free deck storage bag for a few dollars more. Finally a Recreational Touring Shell from the World Leaders in Rowing that is available for hundreds less than the competition. We've taken our time in designing this boat to make sure that it lives up to the name, performance, and reputation that all Alden Rowing Shells possess. This boat can be rowed by five year olds and adults up to 225 pounds.
---
Alden 16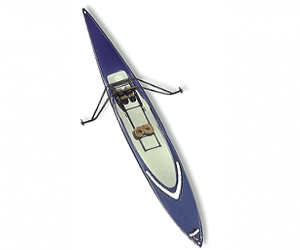 The Alden 16 is the most popular recreational rowing shell in the world. It delivers satisfying speed, and can be rowed by anyone, anywhere, at anytime. The exclusive hull design is the key. The flared bow lifts the boat over waves and the flat bottom provides stability. The manageable length and hull weight means the Alden 16 is easy to transport, so you can row wherever you would like. The dropped keel design eliminates the need for a skeg, so it launches easily from a beach. The first Alden 16 was rowed by the designer into the teeth of 62 MPH winds from Tropical Storm Doria in order to confirm the shell's seaworthiness. Thousands of people have rowed the Alden 16 in calmer conditions since. They are raced at the Head of the Charles Regatta in Cambridge, MA and are used as touring vessels all over the United States as well as in such far off locations as the Island of Chuuk in the Pacific Ocean. Boat Specs: The Alden 16 hull weighs approximately 40 pounds (~58 lbs. when rigged). It has a functional weight capacity of 200 lbs, a hull length of 16 feet, a waterline beam of 24 inches and an overall beam of 25 inches. Hull Construction: Hand laid fiberglass, 12-14 mil. gel coat finish, fore and aft bulkheads with positive foam flotation. Special Features: Access port and storage bag, bow line, and a rub rail.



---
Alden Star
| | |
| --- | --- |
| | The Alden Star is the open water racer from the experts in open water rowing. The advanced hydrodynamic hull design incorporates a unique, reverse transom and step stern, to reduce drag and increase lift. Central positioning of the rower, and even distribution of fore and aft hull volume, provides equal buoyancy at the catch and finish of the stroke to reduce pitch and drag.The flat bottom provides stability while the slightly flared bow provides lift over waves, helping to maintain a powerful, even stroke. The Star positions you for maximum performance. Oarlocks are placed forward of the uniquely designed canted rigger, allowing rowing through the pin at the catch for a longer stroke. Rigging is mounted with internal and external plates to insure strength, but can be removed in less than a minute. Oarlocks can be adjusted for pitch, spread range (60"-65"), and extra long oarlock pins provide the vertical adjustment for varying water conditions. Individual teak clogs can be adjusted for splay angle, stance width, and heel cup height. The Star has won numerous open water and recreational class races, and is equally at home in the four-foot swells of the Santa Cruz to Monterey race, or the flatter conditions of the Charles River in Boston. Boat Specs:The fiberglass Alden Star weighs approximately 45 pounds when rigged, has a functional weight capacity of 275 lbs, a hull length of 21 feet 8 inches, a waterline beam of 18.4 inches and an overall beam of 21.5 inches. Hull Construction: Vacuum bagged laminate of stitched fiberglass and vinylester resin, 10-12 mil. gel coat finish, full length stringer creates I-beam construction, floatation. Special Features: Enclosed skeg box, two access ports, on deck storage, removable bow line. |
---
For more Details visit the Alden Rowing website.