aldenofsunapee@myfairpoint.net




1-800-287-96**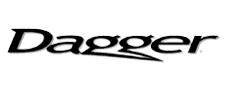 For more details visit the Dagger Kayaks website.
---
Zydeco


Make no mistake... The Zydeco is loads of fun, but it's no toy. Our easiest-to-paddle, lightest, most approachable kayak design is a true performer. Mazimized waterline length combined with a surprisingly sophisticated hull and outfitting that far outshines whatever else is out there make for a fast, responsive, stable, and comfortable ride. No matter how you pronounce it.
SPECS
Length
Width
Weight
Cockpit
Capacity
9' 5"
27.75"
38 lbs
38" x 21"
220lbs
Element 10.0


With its big brother the Element 11.2, setting the pace in recreational kayak design, the Element 10.0 brings the exciting and sleek aesthetics to delight first time purchasers of a kayak. Our Element 10.0 features the same performance hull features, deck look and rigging system that made Element 11.2 on of Dagger's biggest successes in 2004. We then poured in our new and improved AircoreŽ recreational touring seat system and voila - a boat design that is ideal for the consumer looking for his or her first kayak.
SPECS
Length
Width
Weight
Cockpit
Capacity
9' 11.5"
27.75"
41 lbs
38" x 21"
250lbs
---